Roadrunner & Artist News
EIGHT YEAR OLD ZOE THOMSON SHREDDING THE GUITAR...
RSS Feed
Posted on February 7, 2012
There have been a ton of animal and children metal videos popping up online, some of which we have highlighted here on our website. The other day we spotted a tweet by
BLACK LABEL SOCIETY
's
Zakk Wylde
, which alerted us to someone we have seen in previous videos: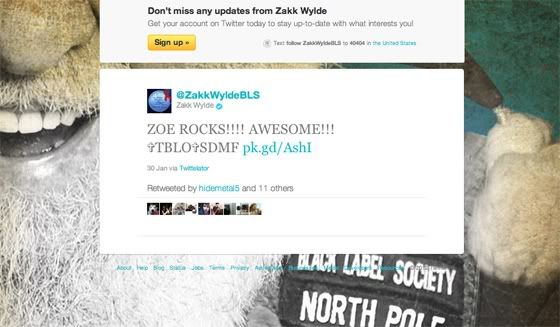 Zoe Thomson
is a member of the band of little people who went viral on YouTube with a video of them covering
Metallica
. We decided to check out some videos of Zoe and we have to agree with Zakk, she shreds it on the electric guitar! Check out some videos below:
We wonder what
SLASH
would think of this clip (she was only 7 in this video!?):
If this is what she's like at 8, imagine what she'll be like in 10 years!?
Check out Zoe's Mini Band YouTube page by clicking here
.
Comments & Sharing